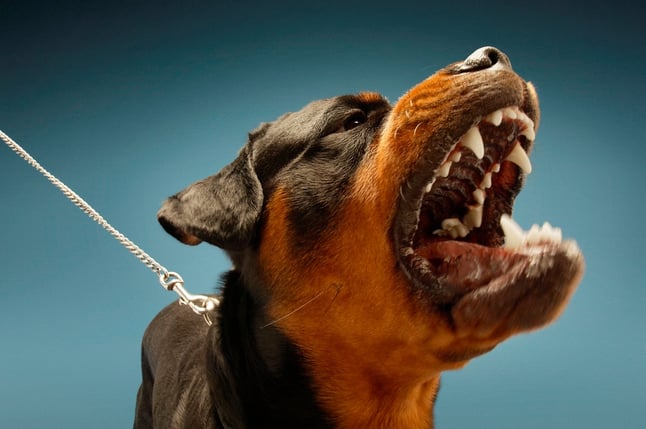 September 28, 2016 is the 10th annual observance of World Rabies Day, a day created to raise awareness about the continuing global hazard of rabies. Although many people believe that this disease has been eradicated, in fact, rabies is responsible for an estimated 59,000 human deaths each year.
What is Rabies?
Rabies is a viral disease that is transmitted through the saliva or tissues from the nervous system of an infected mammal to another mammal through an opening in skin or a mucous membrane. It causes an infection in the central nervous system, ultimately causing an inflammation in the brain that leads to death. Any mammal can get rabies, which usually happens through a bite. In the wild, rabies is commonly seen in bats, raccoons, skunks, foxes, and coyotes, but domestic mammals like cats, cattle, hamsters, and dogs are also commonly afflicted. An infected animal may change in temperament, becoming more irritable and hypersensitive to stimuli. Paralysis of the throat and jaw muscles may set in and cause foaming at the mouth, while paralysis of the legs can cause disorientation, incoordination and staggering. Other classic signs of rabies include loss of appetite, weakness, seizures, and sudden death.
In humans, the early symptoms of rabies include fever, headache, and general weakness or discomfort, which can easily be mistaken for a common cold or flu. These can go undetected for a period of time ranging from several days to as long as 90 days. As the disease progresses, more specific symptoms appear and may include insomnia, anxiety, confusion, slight or partial paralysis, excitation, hallucinations, agitation, hypersalivation (increase in saliva), difficulty swallowing, and hydrophobia (fear of water). Once these serious symptoms set in, the disease progresses very rapidly, and death usually occurs within days.
If you or a loved one has suffered an attack by a dog or another animal, it is critical to seek medical attention immediately. The animal should be confined and observed for 10 days, if possible, and euthanized if any signs of rabies develop. Be sure to speak with an experienced New Jersey personal injury attorney to discuss your rights and seek compensation for your injuries.
About World Rabies Day
As a result of modern medicine and public awareness campaigns, human rabies is rare in the United States. There have been only 55 cases diagnosed since 1990, most of which are caused by interactions with wild animals like this Basking Ridge animal attack by a fox and these Manchester Township coyote attacks. Rabies remains much more common in other parts of the world, causing between 40,000 and 70,000 rabies-related deaths worldwide each year. Bites from unvaccinated dogs cause most of the cases outside of the U.S.; many dogs in the U.S., by contrast, are vaccinated against the virus at routine intervals.
One of the reasons for the low rates of infection in the U.S. is that the rabies vaccination is extremely effective in preventing the disease, even when it is administered after exposure. Because of this, between 16,000 and 39,000 people are vaccinated each year in the U.S. as a precaution after being bitten by animals. Since the virus is so deadly, anyone who is attacked by an animal or suffers an animal bite should be vaccinated immediately.
Among other life-saving rabies prevention messages and initiatives, World Rabies Day highlights the work of individuals and organizations who are making a vital contribution to the goal of global elimination of human deaths from canine rabies by 2030.
Compensation for Animal Attacks in New Jersey
Those who have been bitten by a dog or other animal should be vaccinated against rabies immediately. The vaccination process is safe and effective, but can be time consuming, requiring multiple shots over two weeks following the injury. A person who is exposed and has never been vaccinated against rabies should get 4 doses of the vaccine: one immediately following the injury, along with another shot of Rabies Immune Globulin, and additional doses on the 3rd, 7th, and 14th days. Even a person who has been previously vaccinated should get multiple doses of rabies vaccine: one immediately and another on the 3rd day. These injections require multiple trips to a victim's health care provider and possibly time away from work, in addition to the discomfort and unpleasantness of multiple shots.
In most cases, a New Jersey animal owner is strictly liable for injuries directly related to dog bites or animal attacks, including costs and damages related to vaccinations and other disease-preventing measures. If a property owner has knowledge of a dangerous condition on his property, such as a known wild animal, he could also be liable for injuries caused by the condition.
If you have been injured in an animal attack or have had to undergo a course of rabies vaccination shots, having an experienced New Jersey animal attack attorney on your side will help you in recovering the compensation you deserve.
If you or a loved one has been injured in a New Jersey animal attack, contact the experienced attorneys at the Mark Law Firm for a FREE consultation about your incident. Our professional and experienced team of attorneys will help evaluate your case and find out if you could be entitled to compensation. Learn more here about how an experienced personal injury attorney can help you!
Call us at any of our conveniently located offices:
908-375-6767 (Basking Ridge animal attack lawyers)
908-375-6767 (Newark animal attack lawyers)
201-431-7541 (Oradell animal attack lawyers)