If you've suffered a workplace injury, you know that one of the painful side effects can be figuring out how to deal with the workers' compensation paperwork. It's vital to make sure that you comply with all of the deadlines so that you get the compensation you deserve for your injuries, medical expenses, and lost wages.
What should I do right away?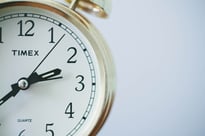 Notify your employer as soon as possible. You can give notice verbally or in writing to your supervisor, HR, personnel office, manager, or anyone else in authority at your business that you have been injured.
Get medical treatment. If you aren't already receiving emergency medical care, make a request for medical treatment as soon as possible. Your employer and/or its insurance carrier has the right to select the doctor(s) who provide care for you.
Keep your employer and its insurer updated. You will be required to fill out a lot of paperwork for your employer and its insurer during the course of your medical treatment and recovery. It is important for you to comply with these requests in order to make sure you are compensated fully and fairly.
What timelines do I have to follow?
Initial reporting requirements. You must notify your employer of your work-related injury within a "reasonable" period of time. In some cases, what is "reasonable" is obvious: if you fall from a ladder and break your leg, report it immediately to your supervisor.
Some injuries, however, are not immediately apparent; if your doctor diagnoses carpal tunnel syndrome that she believes is caused by your computer-related job functions over the previous seven years, it may be "reasonable" to report it within a short time after the date of your diagnosis.
Treatment and waiting period. Your employer will notify its workers' compensation insurance carrier, who will provide benefits, including temporary payments for medical treatment and cost of living, directly to you. When you have completed therapy and treatment for pain management, you must have your employer or the treating physician prepare a letter indicating that you are at your maximum medical improvement (MMI).
After you've been notified that you have reached MMI, you must wait 26 weeks before filing a claim petition with the Department of Labor.
Deadline to file a claim. In order to timely file a workers' compensation claim for a New Jersey work injury, an employee must submit the petition to the Department of Labor within two years of the date of injury. If an employee misses the two-year limitation, very few exceptions allow a later filing.
Sometimes these timelines conflict, and you aren't finished your medical treatment and at the point of MMI with enough time to wait 26 weeks before filing a timely claim. We are here to help and guide you as to the proper time to file.
The New Jersey attorneys at the Mark Law Firm offer personal injury free consultations to employees injured on the job and trying to work through the workers' compensation system. Our experienced and knowledgeable New Jersey workers' compensation lawyers can advise you in the timely filing of your workers' compensation claim.
For your free consultation, visit our contact page or call 908–626–1001. For more information on what to else to do if you suffer a personal injury, either at work or at home, click below to download our free eBook.
For a comprehensive overview of workers' compensation in New Jersey, see our guide here.