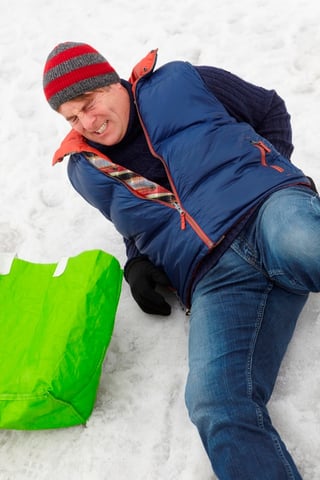 With winter storms hammering the eastern seaboard, just getting to work can be a dangerous chore. Even if you don't drive, your commute can be far more dangerous in the ice and snow, whether you're walking to work, walking to public transportation, or just walking from your car to your office.
Slips and falls account for 300,000 serious injuries and 20,000 deaths a year in the US. In many cases, these accidents are the result of a property owner, landlord, or homeowner not ensuring their property is appropriately maintained to be as safe as possible in the weather conditions.
What duty does a private property owner have to prevent slips and falls?
Homeowners and other owners of private, non-commercial property have a duty under New Jersey premises liability law to maintain their property in a safe manner for people who have the right to be there. Property owners have a duty to exercise reasonable care when maintaining their property, which in snowy, icy weather can include shoveling snow, applying salt or chemical deicers, or laying down non-slip devices like mats, and must provide adequate warnings to those entering the property where a hazard exists.
A private property owner's liability extends not only to people who have been invited on to the property (your guests), but also to anyone who is there for a lawful purpose (e.g., mail and delivery persons). The law holds property owners accountable for injuries caused by unsafe conditions on their property due to negligent property maintenance, which can include failing to remove snow or ice. If you've been injured on private property, you may be able to recover for your injuries if you are able to show negligence.
State law does not require private property owners to shovel the sidewalks adjacent to their property (although local laws may require this and levy a fine for noncompliance). Because of this, it's usually unlikely that you can recover from a private property owner for injuries you sustain in a sidewalk fall. Additionally, municipalities and townships do not have any liability for slip and fall injuries occurring on public grounds, including playgrounds, sidewalks, and transit stops.
What duty does a commercial property owner or business have?
Just like private property owners, owners of commercial property have a responsibility to keep their property safe for those who have a right to be there. In fact, both commercial owners and businesses that rent commercial space also have a legal responsibility to actively and diligently inspect the common areas on and around their premises. A commercial tenant's responsibility to its guests extends to the surrounding areas of the building, such as walkways and parking lots, which its guests would be expected to use while engaging in business. These duties are above and beyond the duty of a private property owner to exercise reasonable care in maintaining the property in a safe condition. If you've been injured on commercial property, you may have grounds for a claim against the property owner, business, or both in a premises liability lawsuit.
What should you do if you're injured in a slip and fall occurrence?
A skilled personal injury attorney who is experienced in slip and fall and premises liability cases can help you protect your rights and recover damages for the losses you have suffered. Click below to download our FREE eBook discussing what you should do to protect your rights in the event that you are injured. Then, contact us to make an appointment with one of our experienced slip and fall lawyers in Newark, Basking Ridge, or Oradell, New Jersey.