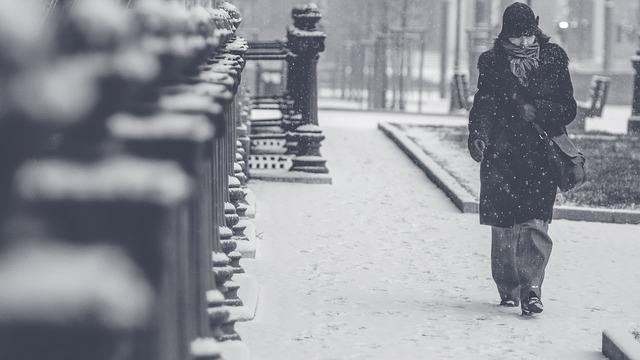 It's that time again! Winter weather is in full force in some parts of the country and is lurking around the corner for many more. The New Jersey personal injury attorneys at the Mark Law Firm answer a number of questions frequently each year as snow and ice move in. Here are a few of the most popular questions and answers; remember, however, that every situation is different, and you should consult with an attorney to discuss the facts of your own case.
I suffered an injury on public transportation due to the weather. Can I sue?
In the winter, your commute can be far more dangerous in the ice and snow, even if you take public transportation! Slip and falls are common on train platforms, bus stops, and slippery vehicle floors. Vehicle collisions or sudden stops can lead to whiplash, concussions, and other personal injuries for passengers on the 2,000 buses, more than 700 trains, and 45+ light rail vehicles owned and operated by New Jersey Transit. This public transportation corporation is held to the heightened standards of a "common carrier," which means that it owes the highest duty of care to protect its riders from collisions and other injuries. However, claims against state or local municipalities or public transit agencies like NJT are subject to numerous confusing and complicated rules. You must file notice of a personal injury claim against a public agency within a specific statute of limitations period, which can be as little as 30-60 days, so it's vital to seek legal advice as soon as possible after an occurrence.
Do I have to shovel my driveway/walkway?
Slip-and-fall accidents account for 300,000 serious injuries and 20,000 deaths a year. Often, these incidents are the result of a property owner, landlord, or homeowner not maintaining their property appropriately to be as safe as possible in the weather conditions. Owners of private, non-commercial property have a duty under New Jersey premises liability law to maintain their property in a safe manner for people who have the right to be there. This includes both people who have been invited on to the property (guests) and anyone who is there for a lawful purpose (including mail carriers, delivery persons, law enforcement, etc.). In snowy, icy weather, reasonable maintenance can include shoveling snow, applying salt or chemical deicers, or laying down non-slip devices like mats. If a property owner can't make the property reasonably safe, he must provide adequate warnings to those entering the property of areas where a hazard exists.
What about the sidewalk in front of my house?
State law does not require owners of private, noncommercial property to shovel the sidewalks adjacent to their property. However, many municipalities have passed ordinances requiring that homeowners maintain the sidewalks that abut their property, including removing snow, ice, and any other hazards or debris. Highland Park, Red Bank, and Jersey City have ordinances that specifically address snow removal following a snowfall and fine violators per occurrence or per day the sidewalk is deemed to be unsafe. Many other New Jersey townships do not have such an ordinance but "encourage" property owners to help keep their community safe by shoveling and de-icing.
Can I really get a ticket for not clearing snow off of my own car?
New Jersey is one of just a handful of states that mandate drivers remove all ice and snow from the hood, roof, and windows of a vehicle before getting on the road. Even if you the snow and ice don't dislodge from your vehicle or cause any actual problems, you can be ticketed $25 to $75! If ice or snow does dislodge from an improperly cleared vehicle and cause property damage or injury to others, you can face a fine of $200 to $1,000 for each offense. If your vehicle is a commercial vehicle, such as a heavy duty commercial truck or tractor-trailer, the fines range from $500 to $1,500. Plus, you can be subject to a lawsuit for damage or injury caused by snow or ice dislodging from your vehicle.
Am I allowed to use studded tires?
"Studded" or "snow" tires have small nubs of metal or hard plastic embedded in them to improve traction on ice and snow. You are legally allowed to use them on vehicles in New Jersey between November 15th and April 1st. "Studless" snow tires are another option to increase traction in slippery winter conditions; these can be legally mounted on your vehicle any time of year. (You shouldn't leave them on all summer, however, because they perform less optimally and wear out more quickly than ordinary tires in warm weather.) Tire chains are also permitted and recommended to help you get the best traction on ice or hard-packed snow. Buy the right size for your vehicle, and practice putting them on before the weather makes it necessary.
Can I get a ticket for going the speed limit?
New Jersey law requires that motorists keep a "safe" distance between their car and the vehicle in front and that they maintain a speed appropriate to the road conditions. In wet or slippery conditions, stopping distance will be longer, and driving at the posted speed limit may actually be unsafe. It may also be necessary to leave more space between cars while traveling and passing. While the law does not prohibit passing a snowplow, drivers are advised to exercise extreme caution and leave adequate clearance when doing so. A driver may receive a ticket for careless driving if he or she "drives carelessly or without due caution and circumspection in a manner so as to endanger or likely to endanger a person or property," which can include many kinds of failures to drive appropriately in winter conditions. A motorist who "drives a vehicle heedlessly, in willful or wanton disregard of the rights or safety of others, in a manner so as to endanger, or be likely to endanger, a person or property" can also be ticketed for reckless driving, a much more significant offense. Both violations can result in restrictions on or points against your New Jersey driver's license, in addition to fines, fees, and potential jail time (especially for repeat violations).
What should I do if I've suffered personal injuries?
If you have suffered a personal injury due to a slip-and-fall occurrence or need help defending a claim for an incident on your property, the Mark Law Firm's dedicated New Jersey personal injury lawyers and premises liability attorneys can help. We'll work with you to protect your rights and recover damages for the losses you have suffered. Click below to download our FREE guide discussing what you should do to protect your rights in the event that you are injured. Then, contact us today to make an appointment with one of our experienced personal injury attorneys in Newark, Basking Ridge, or Oradell.