Collisions involving bicycles and motor vehicles can be some of the most frightening and debilitating accidents. More than 700 bicyclists were killed in traffic accidents in the U.S. in 2013, and an additional 48,000 were injured. It's important to know the laws and your rights as a bicyclist on New Jersey roadways.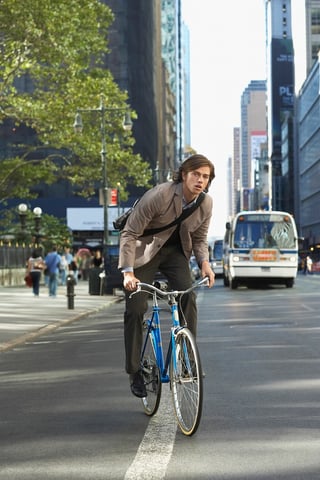 Rights and Responsibilities of Bicyclists on New Jersey Roads
In New Jersey, bicyclists have many of the same rights and responsibilities as other vehicle operators. They have an equal right to be on the road and are required to obey most of the same traffic laws, including obeying all traffic signals and signs and taking and yielding the right of way appropriately to cars, pedestrians, and other cyclists. In addition to the universally applicable rules of the road, bicyclists must also follow regulations specific to them.
Roadway cyclists are required to ride as near to the right roadside as practicable, exercising due care when passing a standing vehicle or one proceeding in the same direction. Moving to the left (into the lane) is allowed to pass, to make a left turn, or to avoid debris or hazards. Riders may also ride in the main lane if they are keeping up with the speed of traffic or traveling two abreast, so long as they do not impede traffic.
New Jersey does not have any laws specifying the legal passing distance for vehicles to overtake bicycles. Many states, including New York, have laws specifying cars allow a "safe distance," depending on roadways, weather conditions, and traffic. Some others specify that vehicles allow 3 or even 4 feet to pass. "Safe distance" legislation has been proposed in New Jersey but has not been passed into law.
Cyclists on New Jersey roadways are required to wear or have certain equipment, including front and back lights, brakes, a bell or horn, and a helmet if the rider is under 17 years old. Reflectors or reflective clothing are recommended to improve a cyclist's visibility to motorists and other cyclists but are not required. Drivers should take extra care to be aware of possible approaching cyclists, and cyclists should make a strong effort to ensure they are visible to drivers even when they have the right of way.
Liability and Recovery for Bicycle Accidents
Drivers have a duty to exercise a reasonable care for pedestrians and bicyclists. In most cases, motorists who violate traffic laws or are otherwise negligent or reckless are liable for injuries a bicyclist suffers in a collision. Because of how large and powerful vehicles are compared to cyclists, a bicycle-vehicle accident often results in serious, life-threatening injuries, including head, brain, and spinal cord injuries, broken bones, internal injuries, soft tissue injuries, or external injuries like cuts, scrapes, and abrasions.
A plaintiff can recover compensatory damages for medical bills, lost wages, pain and suffering, wrongful death, and other losses from a liable driver. Punitive damages may also be available for particularly egregious or negligent behavior, including cases of intentional injury.
A cyclist might also be able to recover from the city, county, or state if hazardous roadways contributed to the occurrence. If a road has potholes, dangerous blind turns, severely narrow lanes, or even debris, the road could pose a hazard. If the agency or department in charge of maintaining a roadway is negligent in its maintenance duties, it may be possible for the victim to hold the agency liable for some or all damages.
In rare cases, an accident may be caused by a defective bike or bike part; in this case, an accident victim may be able to sue the manufacturer or distributor in a product liability action.
If You Are Injured in a New Jersey Bike Accident
If you are injured in a bicycle accident in New Jersey, seek medical treatment immediately. If possible, collect information at the scene, including photographs of the roadway, vehicles, and weather conditions as well as contact information for the associated drivers and witnesses. You must file suit against a driver within two years of an accident, or you will lose out on the right to recover compensation for your injuries. If you intend to sue a municipality or file a product liability action, different time limits apply. You should consult an attorney as soon as you can to learn about and protect your rights.
To schedule an appointment with one of our experienced car accident lawyers at the Basking Ridge, Oradell, or Newark, New Jersey, law offices of the Mark Law Firm, contact the firm online or call 973-440-2311, 908-626-1001, or 201-787-9406 today.
For more information on what to do at the scene if you are injured in a Basking Ridge bicycle accident and how to protect your rights afterward, download our FREE personal injury eBook.