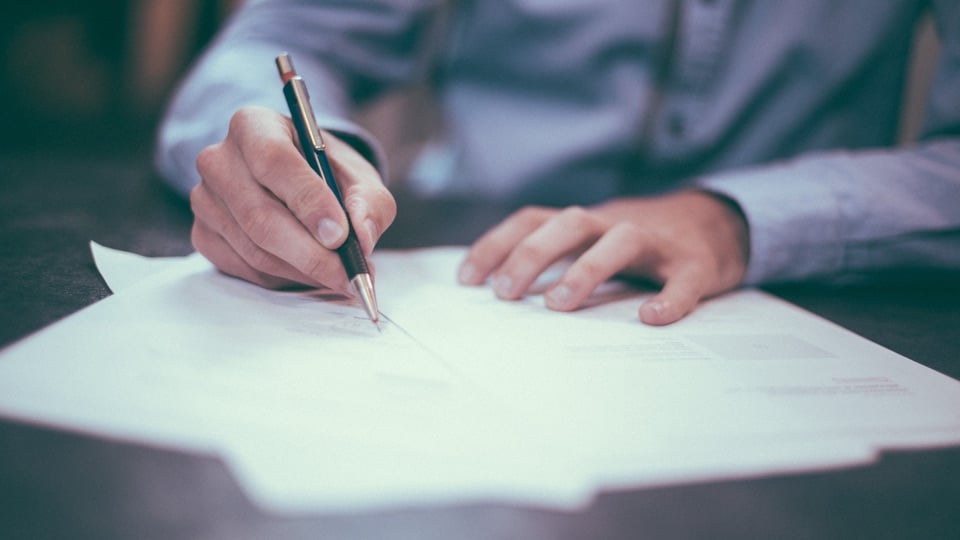 Congratulations, you got the job! Your happy news, however, was accompanied by an employment agreement. You're supposed to sign it and return it to HR immediately. Should you be concerned? Here's what you need to know to put your mind at ease.
Employment "At Will" and Employment Agreements
Most employment relationships in the United States are "at will," meaning that either the employee or the employer can end them at any time, with or without notice, for any legal reason or no reason at all. An employment agreement may or may not change this status. If it does, the change often comes with a corresponding penalty or incentive. For example, an agreement may require an employee to give two weeks' notice before quitting; it may also dictate that if an employee does not do so, they may be subject to immediate termination. Alternately, it may offer an amount of severance pay in return for compliance with the notice requirement. Many agreements, however, explicitly note that although they change some of the terms and conditions of employment, they do not change the nature of the at-will employment relationship. Make sure that your proposed agreement sets out the employment status you expected when you interviewed for the job.
Compensation and Benefits
An employment agreement usually sets out in black and white the salary and benefits an employer has offered to its new hire. Check to be sure that, if this is included, it is accurate and complete, including not only salary or wages but also any other expected compensation and benefits. Some examples include vacation/paid time off, sick leave, 401(k) contributions, profit sharing, commissions, stock options, insurance benefits, signing bonuses, relocation expense reimbursement, educational reimbursement, overtime compensation, holiday pay, and use of a company vehicle. If you have been offered any additional compensation contingent on reaching identified goals (such as meeting quarterly performance benchmarks) or at certain times (such as yearly raises of a certain amount or a shift differential for overnight work), make sure that's in there, too.
Schedule and Location Details
Many jobs offer full- or part-time remote work options or other kinds of flexibility in scheduling. If you have discussed these or other issues related to how and where you work, make sure they are also part of your employment agreement. These may include working a specific shift or schedule, being based out of or working in a particular office, sales territory, or geographic location, frequency of required travel, or being able to work from home or out of another location. If your employer has offered you the use of company property or technology to enable your work (mobile phone, computer, tablet, vehicle, etc.), it's a good idea to memorialize this as well.
Job Title, Duties, and Opportunities
An employment agreement usually also has an in-depth description of the position's essential functions and its role within the overall organization. Read these duties carefully, making sure that they seem correct and complete. If you have any questions or concerns about these job duties, make sure you bring them up before you sign the agreement. Something that seems trivial can prove to be significant if you are terminated "for cause" based on your official job position and potentially unable to claim unemployment or pursue litigation.
Check to be sure that your job title is what you expected and reflects your position. Although the duties of an "assistant" and a "clerk" may be the same, the characterization of the position may affect your future career opportunities. Characterizing a "shift lead" as a "manager" may change your rights to overtime pay or other benefits. Make sure you understand what your rights and responsibilities will be as well as any opportunities for advancement. If your employer has offered you any training or continuing education opportunities, it may benefit you to include them.
Restrictive Covenants and Other Limiting Terms
Your employment agreement may also include "restrictive covenants," that is, terms that limit your ability to work outside of that employer (either during or after your employment). Some examples are non-solicitation and non-competition agreements. Other possible terms that may limit your future career prospects or overall success may be non-disclosure agreements or agreements related to intellectual property ownership. Before you enter into an agreement with any of these terms, make sure you understand exactly how they relate to your job and what potential benefits or freedom you would be giving up.
Why You Should Ask a Lawyer to Review Your Agreement
It's not always possible to take the terms of an employment agreement at face value. Some provisions could create a different contractual relationship between the parties than they intended under local, state, or federal law. Where you live and work can also impact the enforceability of employment agreements. Some states prohibit certain clauses in these contracts and can hold the entire agreement unenforceable based on their inclusion. Some areas have mandatory waiting periods between an employee's signing an agreement and actually beginning work. Consulting with an attorney that is familiar with the laws applicable to your situation can help protect your interests and prevent future difficulties.
There is often room for negotiation when entering into an employment agreement. Resist the temptation to sign it and return it immediately. Instead, review it carefully and consult with an experienced employment attorney. They can help you identify and negotiate any provisions that may negatively affect you and make sure that you start your new employment relationship on the best possible terms.
For more information about your workplace rights, subscribe to our blog.