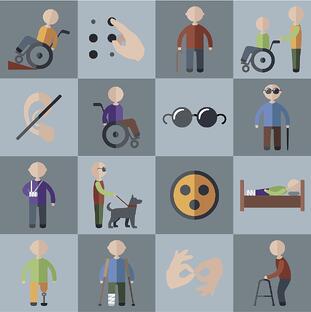 The New Jersey Law Against Discrimination (LAD) protects people in New Jersey from becoming victims of discrimination due to certain characteristics such as their race, religion, gender, or disability. The LAD covers several types of disabilities, including deafness, blindness, and limited mobility. The LAD also contains provisions requiring that people with disabilities or certain other medical conditions be provided with reasonable accommodations. If such accommodations are not provided, a violator can be subject to fines or legal liability if the discrimination victim chooses to file a lawsuit.
Recently, one such instance of disability discrimination has led to a settlement agreement. The Medford Care Center is a rehabilitation facility in southern New Jersey. In 2012, the center faced charges of disability discrimination after it failed to provide a deaf resident with an interpreter during a six-month stay. As a result of this failure, the patient misunderstood the explanation of certain medical procedures and underwent procedures to which she did not consent.
After the allegations of discrimination came forward, the center decided to work toward a settlement agreement with the patient. As part of the settlement agreement, the center must work to create better policies and guidelines for treating deaf patients, such as providing a certified sign language interpreter for any communications regarding medical procedures. In this specific case, it is also likely that the discrimination victim will be able to recover monetary damages for the mistreatment she suffered.
By agreeing to provide an interpreter in the future, the center will likely now be in compliance with the LAD and avoid inflicting further harm through disability discrimination. New Jersey Acting Attorney General John Hoffman believes that this is a step forward in protecting disabled citizens in New Jersey, and that advances such as these help the disabled by allowing them "to comfortably and effectively communicate with their caregivers."
The protections granted by the LAD in this setting exist in other contexts as well. For instance, if an employer fails to provide a disabled employee with reasonable accommodations, such as an interpreter for deaf workers, the employer may be legally accountable, as was the rehabilitation center in this case. Failure to provide reasonable accommodations is illegal employment discrimination and can result in serious consequences for the employer. Aggrieved employees may be able to exercise their rights to accommodations, file suit against the employer, and may even receive a favorable civil verdict or reach a settlement agreement, as was done in this case.
Source: http://legalnewsline.com/news/247178-new-jersey-rehab-center-settles-discrimination-allegations