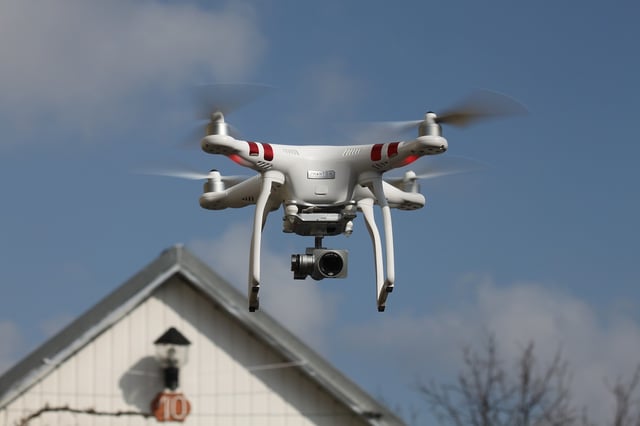 Whether you've heard them buzzing around your neighborhood or seen them hovering in the park, drones are more popular than ever. Officially known as "unmanned aerial vehicles" (UAVs), drones are small, unmanned aircraft that either respond to the commands of a remote operator or follow a pre-programmed trajectory. Although they were initially developed by the military, they are now available across a broad spectrum of complexity and cost to hobbyists of all ages. But flying your own drone can land you in hot water if you aren't aware of the rules and regulations that apply in New Jersey.
FAA Regulations on Commercial Drone Use
The attachment of cameras to UAVs allows streaming or recording of video that is impossible to get by any conventional means. As a result, many businesses have started using drones for commercial uses, like aerial surveying or photography services, or for uses incidental to their main business, like performing roof inspections or real estate photography. If you're thinking about using a drone for commercial purposes, make sure you know the rules that apply.
In August 2016, the FAA put in place binding regulations governing commercial use of aircraft weighing less than 55 pounds. These regulations apply to drones flown over both public and private land because the FAA regulates the "airspace" over all U.S. land. For commercial purposes, the FAA requires that a UAV
Must fly under 400 feet above ground level or, if flying at a higher altitude, stay within 400 feet of a structure
Must be within the visual line of sight of the remote pilot in command or a ground observer
Must fly during daylight or civil twilight hours (30 minutes before official sunrise to 30 minutes after official sunset, local time) with appropriate anti-collision lighting
Must fly at or below 100 mph
Must yield right of way to manned aircraft and avoid restricted airspace
Must not fly over people
Must not fly from a moving vehicle unless you are in a sparsely populated area.
FAA Restrictions on Recreational Drone Use
For purely recreational operators—that is, those who just enjoy the thrill of flying their own drone or recording their personal adventures—the FAA has different rules. It requires all owners of small unmanned aircraft weighing between 0.55 and 55 pounds to register them online and label the unit with the registration number before flying. It encourages hobby users to affiliate with a group like the Academy of Model Aeronautics (AMA) and follow their community use guidelines, but it also sets forth its own list of official safety guidelines (which are not technically laws). In addition to the restrictions on altitude and requirement to keep your drone within eyesight, the FAA guidelines advise that operators
Never fly near other aircraft, especially near airports
Never fly over groups of people, stadiums, or sporting events
Never fly near emergency response efforts such as fires
Never fly under the influence
Be aware of airspace requirements and laws restricting air traffic.
Federal law bans the use of drones in all National Parks. On other federal lands, including wildlife refuges and forest service areas, hobby users are required to follow the FAA guidances. If users seek to operate a drone within 5 miles of an airport, at any height and on any kind of property, they must notify and seek permission from the airport operator and air traffic control tower.
Local New Jersey Drone Laws

New Jersey banned the use of drones in all its state parks in 2015, although specific permission may be granted by the State Park Service for university-sponsored scientific research projects. The New Jersey State Interscholastic Athletic Association (NJSIAA) has banned drones at all outdoor high school sporting events and will stop a game if one approaches the playing or spectator areas.
Many local New Jersey and nearby New York state municipalities have passed regulations and ordinances—some banning drone use completely. Local airport no-fly zones can restrict drone use in large parts of the surrounding areas, including the Newark and Teterboro airports (whose no-fly zones cover much of Bayonne and Jersey City). Across the country, many large cities have passed restrictions on drone use: Los Angeles enacted a city ordinance imposing up to $1,000 in fines and six months in jail for anyone flying a drone within 25 feet of another person, and Chicago created no-fly zones in the city limits over schools, churches, hospitals, police stations, and any private property without the owner's consent.
Almost every state has proposed legislation regulating drone use, includinglicense/registration requirements and bans on voyeurism and hunting via drone. So far, no statewide legislation has been passed in New Jersey, although a number of bills have been introduced. The FAA maintains that laws regulating drone use fall within the exclusive jurisdiction of the federal government, which regulates airspace, but that issue has not yet been litigated in the courts. As technology flies toward the future, it is likely that more regulations will be put into place on local, state, and possibly federal levels.
The FAA has a helpful website, Know Before You Fly, to help drone users stay safe and legal. If you have a drone for personal or commercial use and are unsure of your local regulations, or if you have received a citation as a result of operating a drone, contact a qualified attorney. For tips on hiring the right firm, click below to access our free ebook.