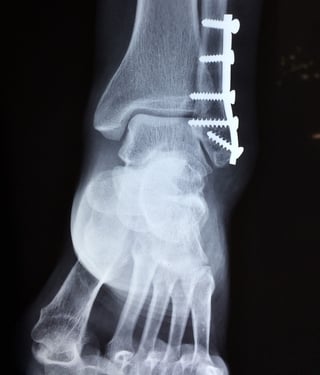 If you are injured while working from home (sometimes known as "telecommuting" or "teleworking"), you may not realize that you may be eligible for workers' compensation benefits. These could reimburse you for medical expenses, lost wages, temporary disability, permanent disability or impairment, and more. Do you know your rights?
Worker's Compensation Coverage Eligibility
New Jersey requires nearly all companies to carry workers' compensation insurance for employees. If you work from a home-office location within the State of New Jersey, even if your company is not a New Jersey company, you may be eligible for NJ workers' compensation protection. (Conversely, if you are injured while working from a home located in another state, even for a New Jersey company, you may not be eligible for New Jersey workers' compensation protection.)[1]
In order to be covered by worker's compensation, an injury must arise out of and be sustained in the course of a worker's employment. The NJ Division of Risk Management (DRM) defines "in the course of employment" as when employees are at their place of work, during the hours that they are expected to be there, engaged in doing the tasks that they were employed to do. A compensable injury is a bodily injury (as opposed to property damage or a psychological injury) that is the direct and proximate result of something that happened in the course of employment. [2]
How to Determine if an In-Home Injury Is Covered
New Jersey courts recognize that it has become "common for employers to economize on workspace and have part of their staff work at the company headquarters and part at home, with the schedule varying from day to day."[3] Many courts have considered employees' homes to be their "workplaces" for purposes of workers' compensation, taxation, and other legal categorization if the employee is working from home and it presents a benefit to the employer rather than just a convenience to the employee.[4]
In cases where an employee's home is a recognized workplace, most courts have construed the requirement that the activities be "work related" liberally in favor of the employee (e.g., a sales manager who slipped on his icy driveway while salting it, ostensibly to ensure a postal worker could deliver an expected work-related package, was covered[5]). Injuries during regular work breaks (such as bathroom breaks, coffee breaks, or meal periods) are also usually covered (e.g., coverage was extended to a woman, working from her home office, who was assaulted by a neighbor while she was making lunch[6]).
Workers' comp will not, however, cover injuries that are completely unrelated to work or personal comfort, such as doing laundry or caring for children.[7] New Jersey courts have also tended to exclude coverage for natural health conditions such as strokes or heart attacks which cannot be directly causally related to an employee's work.[8]
What Kinds of Injuries Are Compensable?
You may be able to recover workers' compensation benefits for the same kinds of injuries that you'd suffer in an office, including neck pain, back injuries, stress, migraines, and repetitive motion injuries. You might also be able to recover injuries caused by dangerous or hazardous conditions in your home office. An experienced New Jersey workers' compensation attorney can help you evaluate what claims you may be able to pursue to recover what you deserve for your injuries.
If you've been injured in a workplace accident or believe you may have a claim related to your employment, such as a sexual harassment, disability discrimination, wrongful termination or adverse employment action claim, contact the Mark Law Firm. To schedule an appointment at the Basking Ridge, Newark, Oradell, Jersey City, or Union, NJ, law offices of the Mark Law Firm, contact us online or call 973-440-2311, 908-626-1001, or 201-787-9406 today.
For a comprehensive overview of workers' compensation in New Jersey, see our guide here.
[1] Gundecha v. Board of Review, 118 A. 3d 366 (NJ App. Div. 2015).
[2] "Workers Compensation." State of New Jersey Department of the Treasury, Division of Risk Management. n.d. Accessed 30 Aug 2017.
[3] Wasserman v. W.R. Grace & Co., et al., 281 N.J. Super. 34, 38, 656 A. 2d 453 (NJ App. Div., 1995).
[4] See, Rogers v. Pacesetter Corp., 97 S.W.2d 540 (Mo. App. E.D. 1998), Tiernan v. Potter, 281 A.D.787 (NY App. Div. 1953).
[5] Ae Clevite, Inc. v. Labor Com'n, 996 P.2d 1072 (Utah Ct. App. 2000).
[6] Wait v. Travelers Indem. Co. of Illinois, 240 SW 3d 220 (Tenn. Sup. Ct. 2007).
[7] See OSHA Standard Interpretation No. 1904.4(b)(7), Occupational Safety and Health Administration, U.S. Department of Labor, 2009.
[8] James P. Renner v. AT&T, NJ Sup. Ct. (A-71-11) (068744), 2014.