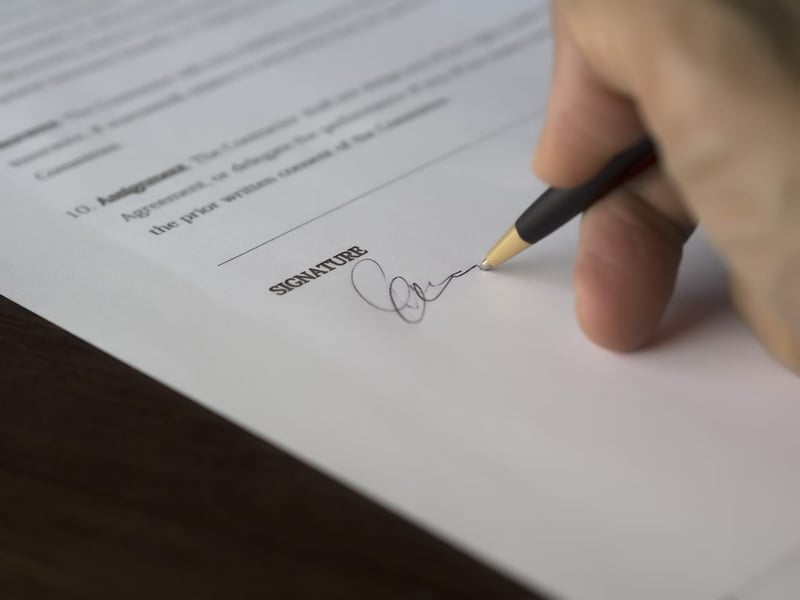 One of a new employee's typical first tasks is to read through and complete a stack of paperwork: tax forms, employee handbooks, and other documents. More and more frequently, one of these forms is a non-compete agreement. You may wonder what this document means, how it alters your legal rights and career opportunities, and if your employer can require that you sign it.
What Is a Non-Compete Agreement?
A non-compete agreement is a contract between an employee and their employer that limits the employee's legal right to work for a competitor or engage in business activities that compete with the current employer's business. Sometimes, the agreements prevent workers from having outside work while they are employed by the company, either specifically (e.g., prohibiting them from doing similar work for another employer) or generally (prohibiting them from doing any sort of outside work). More commonly, the agreements are intended to take effect when the employee separates from the company. Because they effectively restrict some of an employee's freedom to work, they are sometimes called "restrictive covenants."
Must I Sign a Non-Compete?
While an employer cannot force you to sign a non-compete, it is legal in the state of New Jersey to require you to do so in order to work for the company. An employer can make a job offer contingent on you singing such an agreement when you are hired; it can also threaten to terminate your current employment if you do not sign (assuming you are an at-will employee, the most common employment relationship).[1] Unfortunately, New Jersey courts have held that although the New Jersey Conscientious Employment Protection Act (CEPA) protects employees from retaliation who object or refuse to participate in any activity, policy, or practice that they reasonably believe is against public policy, it does not protect a worker who refuses to sign a non-compete agreement.[2]
Are There Limitations on Enforcing Non-Compete Agreements?
The rules for creating and enforcing non-compete agreements are very different from state to state. Some states generally disfavor any such restrictive covenants, permitting their enforcement only between employer and specific kinds of employees (such as senior management, high wage earners, or personnel with trade secret information) and/or requiring employers to take certain procedural steps (such as presenting an agreement to a prospective hire a certain amount of time before their official start date).
There are no New Jersey statutes that regulate non-compete agreements, although a bill is pending in the legislature (Assembly Bill A1769) that would create certain specific requirements. However, a recent Appellate Court decision, ADP, LLC v. Kusins, discussed the current law regarding enforceability. Each agreement must be evaluated on a case-by-case basis and will only be enforced if a court determines it is reasonable in scope and duration.[3] Generally, the state's public policy disfavors restraints on free trade and employment, so these sort of restrictive covenants are narrowly construed.[4] They must be limited in scope only to those restrictions that are
necessary to protect the parties' legitimate interests,
do not cause undue hardship on the former employee, and
are not against the public interest.[5]
A court is permitted to modify an overbroad covenant if it is reasonable to do so in order to make it enforceable and appropriate.[6] (This is called "blue penciling.") So, for example, a court could find that a restrictive covenant is appropriate in scope but unfairly lengthy and rewrite its terms to apply to a shorter amount of time.
Can I Negotiate a Non-Compete?
If your current or potential employer asks you to sign a non-compete agreement, you should seek advice from an experienced New Jersey employment lawyer. Many times, employers may be willing to negotiate the terms of a non-compete, especially if it is part of an offer package. Sometimes, you may be able to obtain additional benefits, salary, stock, or other compensation in exchange for agreeing to certain post-employment restrictions. An experienced attorney can help you determine whether a non-competition agreement is reasonable for your situation and, if so, review the proposed terms and help you negotiate to your advantage. A well-written non-compete contract can provide benefits to both you and your employer rather than being merely a restriction on your employment choices.
For ongoing updates and information about your legal rights, subscribe to our blog.
[1] A.T. Hudson & Co. v. Donovan, 524 A.2d 412, 415 (N.J. Super. Ct. App. Div. 1987) (non-compete signed at hire was supported by adequate consideration); Hogan v. Bergen Brunswig Corp., (378 A.2d 1164, 1167 (N.J. Super. Ct. App. Div. 1977) (an employee's continued employment for three years after signing the non-compete was adequate consideration)
[2] Maw v. Advanced Clinical Communications, Inc., 846 A.2d 604, 608 (N.J. 2004).
[3] Community Hosp. Group, Inc. v. More, 869 A.2d 884, 897 (N.J. 2005).
[4] J.H. Renarde, Inc. v. Sims, 711 A.2d 410, 416 (N.J. Super. Ct. Ch. Div. 1998).
[5] Solari Indus. v. Malady, 264 A.2d 53, 56 (N.J. 1970).
[6] Solari Indus., supra, at 264 A.2d 61.