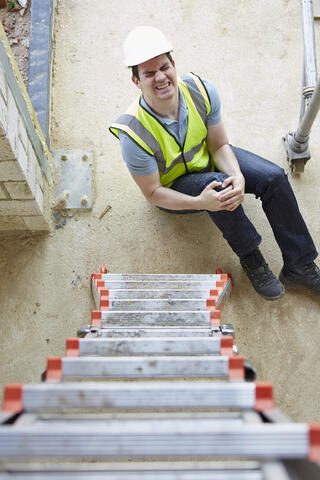 Most workers in New Jersey are protected by workers' compensation laws, which require that employers carry insurance to cover injuries employees suffer while on the job.[1] Workers' comp can pay for an injured worker's medical costs, compensate them for lost wages they suffer because of those injuries, and award an amount to compensate them for long-term permanent disability (if applicable). You may worry that your employer will retaliate against you for filing a claim under its workers' compensation policy, but it's illegal under New Jersey law to terminate or otherwise retaliate against a worker for using the workers' compensation system.
New Jersey Law Prohibits Retaliatory Termination
Most employees in New Jersey have an "at will" employment relationship with their employers, which means that they can be terminated for any non-prohibited reason (or no reason whatsoever) with or without cause, notice, disciplinary procedures, or compensation. However, New Jersey's workers' compensation law specifically prohibits employers from discharging or in any other manner discriminating against employees with regard to employment because they have claimed or attempted to claim workers' compensation benefits or because they have testified or are about to testify in any workers' comp-related action.[2] To succeed on such a claim, an employee who believes he or she has been terminated or discriminated against must prove that the employer's action was a direct result of the employee's protected use of the workers' comp system.[3]
NJ Law Prohibits Disability Discrimination Due to Work-Related Injuries
The New Jersey Law Against Discrimination (NJLAD) also protects injured workers by prohibiting disability discrimination in the workplace. You may also be protected by the federal Family and Medical Leave Act, which allows an eligible employee to take up to twelve weeks of leave due to an illness and protects them from being fired because of the inability to work during that time period.[4] Because of the protection of these laws, an employer may not terminate an employee because of injury-related absences or inability to work during recovery.[5] However, a New Jersey employer is not necessarily required to hold a job open for you during the entire length of an employee's recovery if it is impractical or unreasonable to do so.[6]
When your doctor has determined that you have reached maximum medical improvement (MMI), you and your employer must determine whether you can return to your job, either with or without "reasonable accommodation" to allow you to perform your job's essential duties. An employer does not have to allow you to return to your job if you are unable to perform its essential responsibilities or if it would be hazardous to your safety or health or the safety or health of other employees, clients, or customers.[7]
The bottom line is that it's not always illegal for an employer to terminate or take adverse employment action against an employee who has claimed workers' comp, but it's against the law to do so because of that worker's injury or claim for benefits.
Pursuing and Proving a Pretextual Retaliatory Discharge Claim
Many terminated employees who are fired, demoted, terminated, suspended, or otherwise retaliated against shortly after filing a workers' comp claim suspect that their use of the system is the real reason for their employer's action. While an employer does not have to give an employee any reason for a termination, an explanation that is demonstrably false, suspiciously vague, or outside of an employer's usual course of conduct can be evidence that you may have a legal claim for retaliatory termination. You should seek experienced legal counsel to help you determine whether you may have a viable retaliation claim based on the facts of your case.
Compensation for Workers' Compensation Discrimination
New Jersey law provides that any employee who is discriminated against for making a workers' comp claim or otherwise exercising legal rights shall be restored to employment and compensated by the employer for any loss of wages arising out of this discrimination.[8] An employer or its agent who engages in this kind of discrimination or retaliation can be punished by a fine of not less than $100.00 nor more than $1,000.00 or imprisonment for not more than 60 days—or both.[9] In addition to filing a complaint for wages and reinstatement with the Commissioner of Labor and Industry, you may also be able to pursue a civil lawsuit for compensatory and punitive damages against your employer.[10]
If you believe you've been the victim of wrongful termination, retaliation, or disability discrimination, or if your employer is contesting or denying your workers' compensation claim, contact the Mark Law firm today. We can help you pursue the compensation that you deserve and protect your employment rights. Contact us to make an appointment to review your situation at one of our locations in Basking Ridge, Newark, or Jersey City, NJ, or click the link below to access our free workers' compensation guide.
For a comprehensive overview of workers' compensation in New Jersey, see our guide here.
[1] N.J. Stat. § 34.15-1 et seq.
[2] N.J. Stat. § 34:15-39.1
[3] Gary R. Jeter v. New Jersey Transit, NJ Sup. Ct. App. Div. No. A-0455-07T10455-07T1 (2009) (unpublished).
[4] 29  U.S.C.A. 2601 et seq; Malone v. Aramark Servs., Inc., 334 N.J. Super. 669, 681 (Law Div. 2000)
[5] Grande v. Saint Claire's Health System, ___ N.J.____, ____ A.3d ______, 2017 WL 2963024 (July 12, 2017).
[6] Malone v. Aramark Servs., Inc., 334 N.J. Super. 669, 681 (Law Div. 2000).
[7] Id.
[8]N.J. Stat. § 34:15-39.1
[9] Id.
[10] Lally v. Copygraphics, 173 N.J.Super. 162, 413 A.2d 960 (App.Div.1980), aff'd 85 N.J. 668, 428 A.2d 1317 (1981).