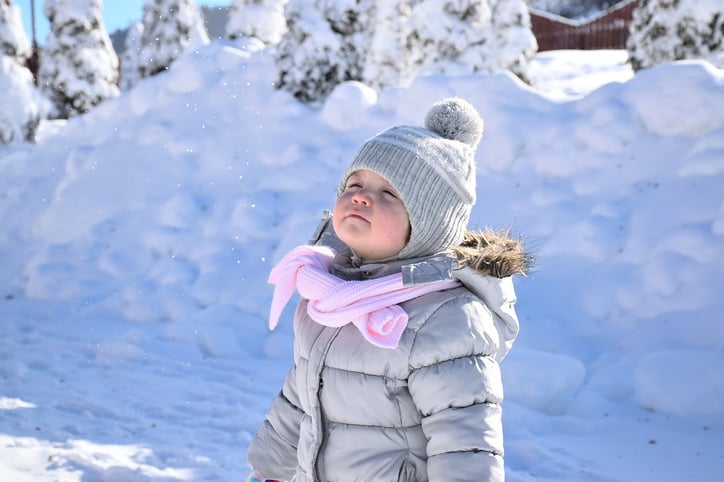 As the weather grows colder and more unpredictable, threats of low temperatures, icy conditions, or snowstorms can force you to rearrange plans. For divorced parents in New Jersey, severe weather can sometimes cause unexpected issues with parenting time agreements.
School Closures & Delays Can Interfere with Custodial Exchanges
New Jersey custody orders often set out the terms of a child's division of residence and the manner of custody exchanges with great specificity.
For example, you may have custody of your child from Sunday evening through Wednesday morning; following school on Wednesday, she may ride the school bus to her other parent's house, from where you pick her up Sunday evening. If severe weather cancels school on Wednesday and it is hazardous for you to transport your child, what are your responsibilities to ensure compliance with the agreement?
The most significant focus of the family courts in New Jersey is to "protect and promote 'the best interests' of the children within its jurisdiction."[1] In light of that mission, in cases where the weather makes it dangerous or unreasonable to transport your child, if you err in good faith on the side of caution and safety, it's likely the court will agree with your decision.
But what if school is canceled and the snowstorm never moves in—are you responsible for transporting your child to her co-parent's house if the school bus isn't running? In the absence of direction from the custodial/parenting agreement itself, the courts would likely consider what would be "reasonable" in the circumstances and whether you act in good faith to further your child's best interests.
Your child's other parent doesn't have a car. If you refuse to drop off your daughter merely because "it's not a term of the custody agreement," the court will be more likely to deem your actions unreasonable and potentially actionable. On the other hand, if you are working and unable to transport your child, but you are willing to allow a caregiver to drop her off, the chances are good that the court will consider that a reasonable compromise and not fault you for failing to comply with the exact terms of your agreement.
Weather Events Can Result in Unfair Division of Parenting Time
If a custodial exchange is canceled due to safety or other weather-related reason, it may result in an unfair balance of parenting time.
For example, your child is supposed to fly to Florida to meet up with his father over Thanksgiving weekend, but the flight is canceled due to weather. It's impossible to book another flight until after the holiday, so your son remains in New Jersey with you for the holiday weekend. You don't want to get haled into court by your ex, and you want your son to spend quality time with his dad. What can you do?
If you and your child's other parent have an amicable relationship, you are certainly allowed to agree on modifications to the official custody order without involving the court. For example, you can agree that even though you were supposed to have your son for Christmas, he can go to his dad's instead; you can agree to swap next year's Thanksgiving parenting time; or you can make any other deal that everyone thinks is fair. Make sure you communicate clearly with each other about exactly what modifications you agree to, and record your agreement in writing (texts and emails are fine).
Judicial Intervention for Custody Disputes
If you are unable to work out your parenting time dispute with your child's other parent, you can file a petition for adjudication in the New Jersey family court system. A judge will consider the same factors upon which an initial custody order is based—which focus on the best interests of the child—and may adjust the visitation schedule or child support payments as appropriate. If one parent shows that the other has been deliberately violating the current custodial order rather than responding in good faith to a reasonable weather or safety issue, the court can hold that parent in contempt (which may result in a fine, restitution like community service, or jail time) or order various remedies to try to make up for the violation. These may include "make-up" parenting time, repayment of costs, or changes to the terms of the agreement.
If you need someone to help you come to a fair and reasonable solution but don't want to go to court, you might consider mediation. This is a form of alternative dispute resolution in which a neutral third party can help you reach an amicable modification of your support order, avoiding the time and expense of litigation.
Seek Help from an Experience New Jersey Family Lawyer
If you need help enforcing or modifying a custody agreement, seek advice from an experienced New Jersey family law attorney. Whether you need advice about New Jersey child support or assistance with any other child custody issues, the Mark Law Firm can help. Contact us to make an appointment to review your situation at one of our locations in Basking Ridge, Newark, or Jersey City, NJ.
Download our free Family Law eBook for advice on child custody issues and other family law matters by clicking the link below.
[1] Hoefers v. Jones, 288 N.J. Super. 590, 604, 672 A.2d 1299 (Ch. Div. 1994); aff'd, 288 N.J. Super. 478, 672 A.2d 1177 (App. Div. 1996) at 288 N.J. Super. 604.