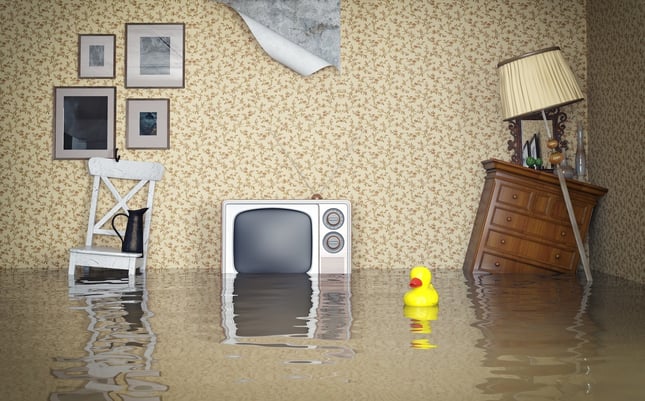 If you live in an apartment or rental property, storm damage and flooding can be a real hassle. From roof leaks to basement pools, water infiltration is at best an inconvenience and at worst a danger to you and your family. Standing water can cause electrocution, gas leaks, or other building system malfunctions. Improper remediation of water damage can allow dangerous mold to flourish. Once you've called your landlord or property manager and reported the issue, what do you do next?
New Jersey Landlord Responsibilities
A landlord is required to provide a tenant with a living space that is "habitable." This means that when a tenant moves in, she or he is legally entitled to expect that the premises will be livable and free from significant defects. This "warranty of habitability" is a promise of working basic amenities including hot running water, waste disposal, working heat and plumbing, a watertight roof and windows, etc. Landlords of buildings with three or more units must meet the standards in the New Jersey Hotel and Multiple Dwelling Health and Safety Code, or "multiple dwelling" code.[1] Most towns and cities also have their own housing or property maintenance codes that apply to all buildings or apartments, not just multiple dwellings.
It's not enough to merely provide a habitable unit at the beginning of a renter's tenancy, though. A landlord is also responsible for ensuring the property stays habitable and livable and to do maintenance and make repairs as necessary. If a storm has damaged your living space, it may no longer meet this standard of habitability – and it's your landlord's responsibility to fix that.
How do I know if the damage makes my apartment uninhabitable?
The New Jersey Supreme Court set forth some of the factors courts can consider when determining whether a problem rises to the level of a habitability issue.
Has there been a violation of any applicable housing code or building or sanitary regulations?
Is the nature of the deficiency or defect such as to affect a vital facility?
What is its potential or actual effect on safety and sanitation?
For what length of time has it persisted?
What is the age of the structure?
What is the amount of the rent?
Can the tenant be said to have waived the defect or be stopped from complaining?
Was the tenant in any way responsible for the defective condition?
Courts can also take into account any other relevant facts to determine whether a defect affects a dwelling's habitability. If it does, a tenant has a number of options under the law.
What Remedies Do Tenants Have?
Obviously, a tenant's first step must be to tell the landlord or property manager exactly what the damage or issue is with the premises. Usually, landlords will begin the process of evaluating the issues and making or arranging for repairs. If a landlord doesn't make repairs that are necessary to maintain the premises in a livable condition in a reasonable time, however, a tenant may take action.
A tenant may make or arrange for the necessary repairs and deduct the cost from future rent. The conditions that are in need of repair must be serious enough to affect the tenant's health or well-being. If they are, the tenant must first provide a written detailed "timely and adequate notice" to the landlord by certified mail. This notice should fairly appraise the landlord of the problematic condition and the repairs the tenant intends to make, and give the landlord a reasonable time to make the repairs himself. It is imperative that a tenant keep records of everything during this process: communications with the landlord, photos and descriptions of the property issues, and receipts/itemization of repair costs and rent deductions. If the landlord sues for unpaid rent, the tenant must be able to show how much was deducted and for what purpose.
A tenant can take the landlord to small claims court and ask that a judge order the landlord to make or pay for repairs. This can be proactive (asking the court to order that a landlord fix the problem) or retroactive (asking the court to order the landlord reimburse a tenant for repairs made by or paid for by the tenants).
In certain circumstances, a tenant can also withhold payment of rent until the landlord fixes the condition. There are specific requirements to correctly and legally withhold rent, which must be followed carefully. They include detailed steps to give the landlord notice and subsequent segregation of the full amount of withheld rent in a separate, secure place (like a bank account). If a landlord attempts to evict a tenant as a result of the nonpayment, a court may determine that the tenant complied with the requirements and reduce the rent as it deems appropriate to the facts or finds for the landlord and order a tenant to pay the full amount. (This process is called a "rent abatement hearing.")
In the worst-case scenario, a tenant may declare a constructive eviction and vacate the apartment. This is only appropriate when a landlord's actions, or failure to take action, render the premises uninhabitable. If a hurricane, storm, or other natural disaster affects the basic requirements for a liveable dwelling and goes unrepaired, despite notice to the landlord, a constructive eviction can be declared. A tenant has a duty to vacate the property within a reasonable amount of time; continuing to live in the dwelling undermines the claim that it is unlivable. If justified in vacating the premises, the tenant is no longer bound by the lease or obligated to pay rent going forward. If you are forced to move because of fire, flood, condemnation, or evacuation, your landlord must also return your security deposit plus your portion of the interest earned on it within five days, less any charges you owe under the lease agreement as of that date (including any back rent).
A tenant who is asserting that he has been constructively evicted must also maintain excellent records of all communication with the landlord and the conditions that make the premises unlivable. If a landlord disagrees with the tenant's decision, the landlord can sue the tenant for back rent, rent under the remainder of the lease, and any other damages or costs incurred. Some leases also require a tenant to pay the landlord's attorney's fees if the landlord has to hire a lawyer to take the tenant to court. If your lease has such a term, and the landlord takes you to court for eviction or non-payment of rent and wins, you will be responsible for paying a "reasonable" fee for the landlord's attorney.
If your home has suffered damage from flooding or has any other habitability issues, an attorney can help you evaluate your options and protect your rights. Talk with an attorney experienced in New Jersey landlord-tenant law to make sure you are able to stay safe and secure. Contact the Mark Law Firm to make an appointment with one of our experienced Newark, Basking Ridge, or Oradell attorneys today.
Storms can lead to dangerous conditions outside as well as inside, increasing the risk for slip-and-fall accidents, vehicle collisions, and pedestrian accidents. If you've suffered a personal injury, click below to download our FREE guide discussing what you should do to protect your rights.
[1] N.J.A.C. 5:10-1.1.