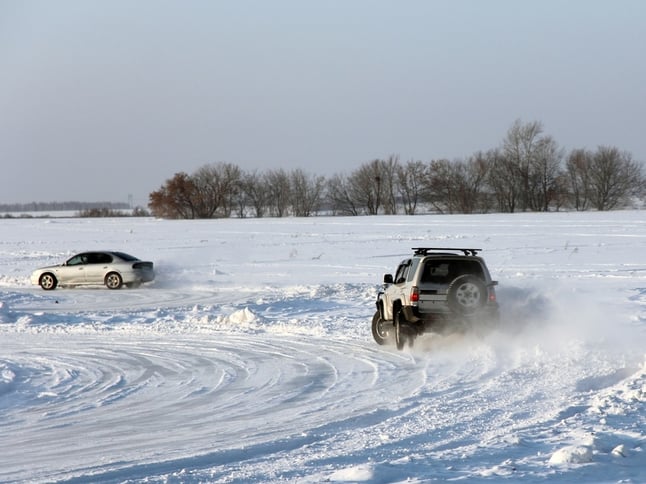 Winter driving can be challenging and increase the potential for collisions and motorist-pedestrian accidents. There are approximately 500 fatalities in the United States per year due to icy road conditions.[1] In addition to being aware of winter driving "best practices," it's vital to know New Jersey winter driving laws before you hit the roads.
NJ Law Requires You Clear Snow and Ice from Vehicles
New Jersey is one of just a few states that require all drivers remove all ice and snow from a vehicle before getting on the road. This includes snow and ice on the hood, windows and roof. Drivers who fail to do so can be ticketed regardless of whether the snow and ice dislodge from the vehicle or cause any actual problems; fines are $25 to $75 for each offense. If ice or snow dislodges from an improperly cleared vehicle and causes property damage or injury to others, private vehicle owners face fines of $200 to $1,000 for each offense. If the vehicle is a commercial vehicle, such as a tractor-trailer, the fines range from $500 to $1,500. New Jersey law also provides that a driver is civilly liable (i.e., can be subject to a lawsuit) for damage or injury caused by snow or ice dislodging from a vehicle.[2]
Legality of Studded Tires
Studded snow tires, which have small nubs of metal in them to increase traction on ice and snow, are legal on vehicles in New Jersey between November 15th and April 1st.[3] Studless snow tires are another option to increase traction in winter conditions, and they can be legally mounted on your vehicle any time of year (but perform less optimally and wear more quickly in warm weather). Tire chains are also permitted and recommended for the best traction on ice or hard-packed snow.
Duty to Maintain a Safe Distance and Speed
Motorists have a duty to keep a safe distance from the vehicle in front and maintain a speed consistent with the road conditions at all times. In wet or slippery conditions, stopping distance will be longer, and it may be necessary to leave more space between cars while passing. The NJ Department of Motor Vehicles recommends following no closer than 6 car lengths (or 6 seconds) behind a vehicle when driving in packed snow conditions and 12 car lengths in icy conditions.[4] While there is no prohibition against passing a snowplow, New Jersey advises drivers to exercise extreme caution and leave adequate clearance when doing so.
Careless or Reckless Driving May be Ticketed
In the winter, many accidents are caused by careless driving. A driver may receive a ticket for "careless" driving if he or she "drives carelessly or without due caution and circumspection in a manner so as to endanger or likely to endanger person or property."[5] This can include many kinds of failures to drive safely in winter conditions, including failure to maintain a safe distance or speed relative to the conditions. A motorist who "drives a vehicle heedlessly, in willful or wanton disregard of the rights or safety of others, in a manner so as to endanger, or be likely to endanger, a person or property" can be ticketed for reckless driving, a much more significant offense.[6] Both violations can result in points against or restrictions on your New Jersey driver's license, fines, fees, and potential jail time (especially for repeat violations).
Winter driving can be challenging. Familiarize yourself with the conditions and the rules of the road before heading out, and above all, use caution. Spring will be here before we know it!
If you've been injured in an automobile collision or automobile-pedestrian collision, or if you've been ticketed for a traffic offense, the experienced attorneys at the Mark Law Firm can help. Visit us at www.newjerseyattorneys.com or call us at 908-626-1001 for a free, personalized consultation today. Our Basking Ridge personal injury lawyers can help you see how a personal injury lawyer can help you or evaluate your best defenses to a traffic violation. Contact us today!
[1] "Ice and Snow: Remove it Before You Go." State of New Jersey Department of Law & Public Safety, Office of the Attorney General. State of New Jersey, n.d. Web. 6 Jan 2016.
[2] N.J.S.A. 39:4-77.1.
[3] N.J.S.A. 13:20-15.2g.
[4] "State of New Jersey Driver Manual." State of New Jersey Department of Law & Public Safety, Office of the Attorney General. State of New Jersey, n.d. Web. 6 Jan 2016.
[5] N.J.S.A. 39:4-96.
[6] N.J.S.A. 39:4-97.