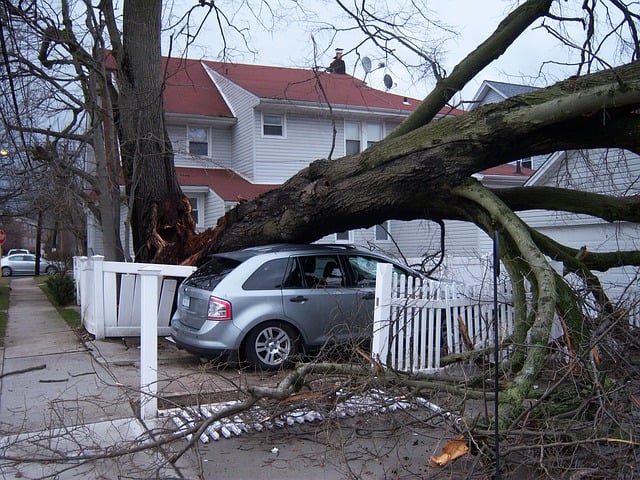 With hurricanes and strong storms in the forecast, much of the emergency information focuses on homeowners. If you live in an apartment or rent property, however, you might be concerned about what to do if your home suffers storm damage or flooding.
Flooding and water leaks are inconvenient and can be dangerous. Standing water can lead to electrocution, gas leaks, or other hazardous conditions. High winds can lead to broken windows, doors, or fences that threaten your home's security and downed trees that impair access. Lightning can cause electrical damage, fires, and power outages. Once you've called your landlord or property manager and reported the issue, what do you do next? Do you know what your rights are when dealing with storm damage?
Legal Responsibilities of New Jersey Landlords
New Jersey law requires that a landlord provide tenants with a living space that is "habitable." When a tenant moves in, he or she is entitled to expect that the premises will be free from significant defects and generally livable for an ordinary, reasonable person. This "warranty of habitability" promises that a dwelling will have working basic modern amenities, including hot running water, plumbing, electricity, waste disposal, heat, and a watertight roof and windows. Landlords of buildings that have three or more units must comply with the New Jersey Hotel and Multiple Dwelling Health and Safety Code, or "multiple dwelling" code. Many New Jersey towns and cities also have more specific rental property or housing maintenance codes that apply to all buildings or apartments, not just multiple dwellings.
A landlord has an ongoing responsibility to maintain the property so it stays habitable and livable and to make repairs when needed. If your living space has suffered damage in a storm, it may no longer meet the required standard of habitability. Your landlord is responsible to restore it to a habitable condition in a reasonable period of time.
How do I know if my apartment is "uninhabitable"?
A landlord is not required by New Jersey law to fix cosmetic damage to property that doesn't affect its livability (although he may be required to do so under city or municipal codes). Courts look at a number of factors to determine whether a property issue rises to the level of affecting a tenant's legal rights to a habitable property, including asking,
Is the condition a violation of any applicable housing code or building or sanitary regulations?
Does the deficiency or defect affect a vital utility (heat, electricity, water, etc.)?
What is the potential or actual effect upon safety and sanitation?
How long has the condition persisted?
A court would also consider whether a tenant was in any part responsible for causing the damage (for example, leaving windows open during a hurricane) in determining whether a landlord is responsible for undertaking and paying for repairs.
What steps do I take if my apartment is damaged?
A tenant's first step should be to let a landlord or property manager know exactly what kind of damage has occurred, whether that is a small issue like broken shingles or a large issue like a leaking roof. Usually, landlords will quickly begin the process of inspecting the damage and making or arranging for repairs. If a landlord doesn't make repairs necessary to maintain the premises in a livable condition in a reasonable time, however, you are permitted to take action.
If the damage to your home is serious enough to affect your health or well being, first provide a written detailed "timely and adequate notice" to the landlord by certified mail. This notice should detail the problem, describe the repairs you intend to make, and give the landlord a reasonable time to make the repairs himself. If the landlord does not make the repairs in that time, you may make or arrange for the necessary repairs and deduct the cost from future rent.
In certain circumstances, you can withhold rent until the landlord fixes the condition. There are specific requirements to legally withhold rent that must be followed carefully, or you risk liability for penalties; so, it may be wise to consult with an attorney before doing so. Keep records (and copies) of everything during this process: your communications with your landlord, photos and descriptions of the property issues, and receipts/itemizations of repair costs and rent deductions. If the landlord sues for unpaid rent, you will have to show how much you deducted and for what purpose.
What if repairing the damage myself isn't an option?
Sometimes, repairs are necessary that affect your home's livability but are either unreasonably expensive for you to repair and deduct or are impossible for you to do as a tenant (for example, fixing leaking plumbing in an upstairs apartment). In this case, you can take the landlord to court and ask that a judge order the landlord to make or pay for repairs. You may be able to recover damages to compensate you for reduced value of the property while you lived with the damage or for expenses related to the damage (like a hotel room for the time the property was uninhabitable). However, a tenant can also waive the right to recover costs related to a defect if he or she lives with it without complaint for a significant period of time. Consulting with an attorney experienced in New Jersey tenant rights can help you figure out if you may be entitled to compensation for expenses related to a landlord's inaction.
In extreme situations, when damage renders the premises uninhabitable and a landlord fails to make repairs despite notice and opportunity, you may declare a constructive eviction and vacate the property. This entitles you to stop paying rent and, in certain situations, get back your security deposit. You should consult with an attorney to make sure you follow the requirements of this process exactly; if you do not, you may be liable for back rent, rent under the remainder of the lease, and any other damages or costs incurred. Some leases also require a tenant to pay the landlord's attorneys' fees if the landlord has to use a lawyer to take the tenant to court.
If your rental home or property has suffered storm damage or flooding, an attorney can help you evaluate your options and protect your rights. Talk with an attorney experienced in New Jersey landlord-tenant law to make sure your rights are protected. Contact the Mark Law Firm to make an appointment with one of our Newark, Basking Ridge, or Oradell attorneys today.