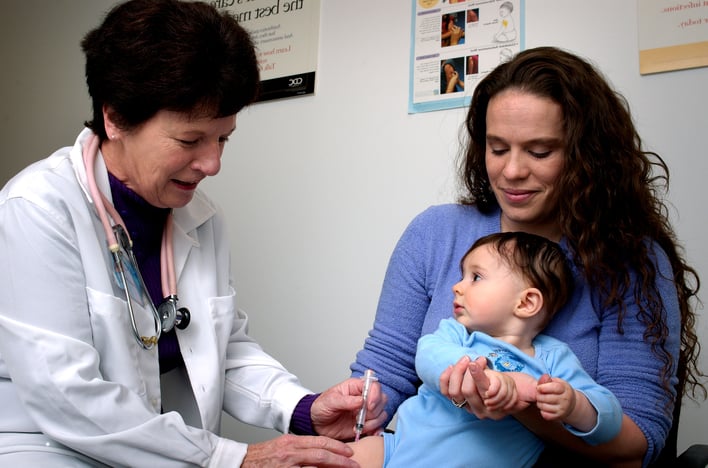 Divorced parents still must navigate many decisions about their children together, including making important choices about schooling, negotiating visitation, and other crucial parenting issues. When it comes to making decisions about your child's health care and medical treatment, what rights do divorced parents have in New Jersey?
Determining Custody During New Jersey Divorce Proceedings
In New Jersey divorces involving one or more minor children, a family court judge will enter an order determining child custody rights as well as child support, alimony, and equitable distribution of marital assets. New Jersey's custody statute authorizes a family court to enter an order specifying that the parents share joint custody or that one parent will have sole custody of a child (generally with visitation rights for the non-custodial parent).[1] This statute also gives a court the discretion to enter any other custody arrangement as the court determines to be in the best interests of the child. In addition to specifying a child's residential arrangements, the custodial order also includes direction as to how and when each parent is authorized to make decisions regarding the child's schooling, medical care, and any special needs.
Depending on the individual circumstances of a case, this may mean that only one parent is authorized to make all medical decisions, that each parent is authorized during his or her parenting time, that both parents have to work together to make decisions, or some other arrangement that the court feels best serves the unique needs of the child. If the parents have joint legal custody, the authority and responsibility for making major decisions regarding a child's welfare (including medical care) is usually shared by both parents, regardless of the child's living arrangements or which parent is the primary residential custodian.[2]
What Happens if Parents Disagree about a Child's Medical Care?
If you and your co-parent cannot agree about a course of care for your child, you can apply to the family courts to help you resolve the issue. The overall mission of the New Jersey family courts is to "protect and promote 'the best interests' of the children within its jurisdiction."[3]
A recent decision involving a medical care dispute between parents noted, "One of the most paramount and fundamental needs of a child relates to the safeguarding of his or her physical health."[4] Using the discretionary power granted to the courts under the custodial statute, a family court judge can review a parent's objections and petition for relief, hear testimony from the parents, medical professionals, or other relevant witnesses regarding the issues, and fashion an appropriate temporary custodial arrangement or make modifications to the permanent custodial order that it finds will be in the child's best interests. An experienced New Jersey family lawyer can help you file the appropriate paperwork and navigate the family court system to protect your child's best interests.
The Mark Law Firm: Experienced New Jersey Family Law Attorneys
The experienced family law attorneys at the Mark Law firm can help you through a New Jersey divorce proceeding involving child custody issues, whether you need advice on an uncontested divorce, representation through the collaborative divorce process, or counsel through a complex or contested divorce proceeding. We can also help you modify child custody orders or seek relief in an emergency situation or for ongoing medical treatment issues. To schedule an appointment at the Basking Ridge, Newark, or Jersey City, NJ, law offices of the Mark Law Firm, contact us today.
Click the link below to download our FREE eBook with more helpful information on child support, custody, and other family law issues!
[1] N.J.S.A. 9:2-4
[2]M.T. v. D.T., 2016 WL 6821807 (N.J.Super.Ch.), unreported (citing Pascale v Pascale, 140 N.J. at 596; Beck v Beck, 86 N.J. 480, 486 (1981), Nufrio v. Nufrio, 341 N.J. Super 548, 555 (App. Div., 2001).).
[3] Hoefers v. Jones, 288 N.J. Super. 590, 604, 672 A.2d 1299 (Ch. Div. 1994); aff'd, 288 N.J. Super. 478, 672 A.2d 1177 (App. Div. 1996).at 288 N.J. Super. 604.
[4] M.T. v. D.T., supra.