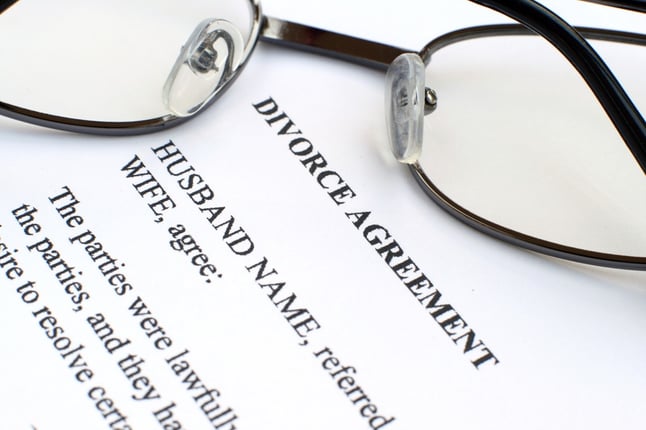 Going through a divorce can be extremely difficult – especially if it's accompanied by the loss of your job. But a new ruling from the New Jersey Supreme Court might help protect your job: the Court recently ruled that the protection of New Jersey Law Against Discrimination (NJLAD) forbids all kinds of discrimination based on marital status, including whether a person is in the process of getting a divorce.
Is "Divorcing" a Protected Class under the NJLAD?
In the recent case Robert Smith v. Millville Rescue Squad (074685) (A-19-14))), decided on June 21, 2016, the Court heard testimony from plaintiff, who worked as the Director of Operations for an emergency medical provider, the Millville Rescue Squad. Mr. Smith had engaged in an affair with one of the volunteers at the company, where his wife and a number of her family members also worked. Mr. Smith's supervisor found out about the affair, but it wasn't until Mr. Smith and his wife decided to divorce almost a year later that he was threatened with termination. Mr. Smith's supervisor told him specifically that the company was worried his divorce would be "ugly" and that the Board's discussion about his termination would relate to his failure to "make things right with his wife."
When Mr. Smith was terminated, ostensibly for performance based and "company restructuring" reasons, he filed suit for wrongful termination and discrimination in violation of the NJLAD based on marital status. He claimed that his termination was based either in whole or in part on an improper, discriminatory motive and that the reasons he was given for his termination were "pretextual," i.e., fabricated to cloak the real bases. The Court was asked to determine whether the NJLAD's protection of an individual from discrimination based on his or her "marital status" protected an individual who claimed he was discriminated against for going through the process of divorcing. It held that the law does protect people who are divorcing from discrimination based on that status.
What Is the NJLAD and Who Does It Protect?
The NJLAD prohibits discrimination in the workplace against people based on their marital status, including in hiring, firing, compensation, terms and conditions of employment, and retirement. An employer cannot undertake an adverse action against any employee for discriminatory reasons. This includes failure to hire, demotion, discipline, termination, pay reduction, and layoff of employees on account of marital status.
The Supreme Court upheld the interpretation of the NJLAD's protection of "marital status" to include the states of being separated and involved in divorce proceedings, as well as the states of being unmarried, engaged to be married, or divorced. It determined that, based on the comments by plaintiff's supervisor, plaintiff presented evidence that he was terminated based on negative stereotypes that defendant held about divorcing employees and because of this ruled that plaintiff had established a sufficient case of discrimination.
Does This Mean I Can't Be Fired for Any Reason If I'm Divorcing?
The Court was careful to make clear that its ruling doesn't prohibit employers from having "anti-nepotism" policies in New Jersey, i.e., workplace policies restricting employees related by blood or marriage from working together. So long as an employer's policies are enforced without discrimination, they can be completely allowed under the NJLAD. In this case, defendant did not assert an anti-nepotism policy, and continued to allow plaintiff's ex-wife and her family members to work together.
The court also made clear that employers are allowed to discipline and terminate employees based on performance and conduct, regardless of whether they are going through marital changes. However, in this situation, the evidence showed that the plaintiff was not discharged for having an affair with his subordinate, nor was he otherwise at any time given performance reviews that would indicate grounds for a job-performance-based termination. There was also no evidence that he was terminated because of any actual conduct related to his divorce or interpersonal conflicts caused in the workplace by his divorce. Evidence of comments made by his supervisor led the Court to believe that he was terminated because the company believed that his divorce would be a distraction (a belief that turned out to be wholly unfounded, as he and his wife ultimately divorced amiably and remained friendly).
This ruling emphasizes that an employer cannot terminate an employee for circumstances in his or her personal life relating to marriage, including potential nuptials or impending divorce, based on unfounded stereotypes of how those circumstances will affect his or her work performance. If you feel that you've been a victim of discrimination related to your marital status or divorce, or if you've suffered any other kind of workplace discrimination, contact the employment attorneys at the Mark Law Firm. Our professional, experienced employment discrimination attorneys can help you figure out if you may have a claim under the NJLAD or other New Jersey employment law claims.
To schedule an appointment at the Basking Ridge, Oradell, or Newark, New Jersey, law offices of the Mark Law Firm, contact the firm online, or call 973-440-2311, 908-626-1001, or 201-787-9406 today.