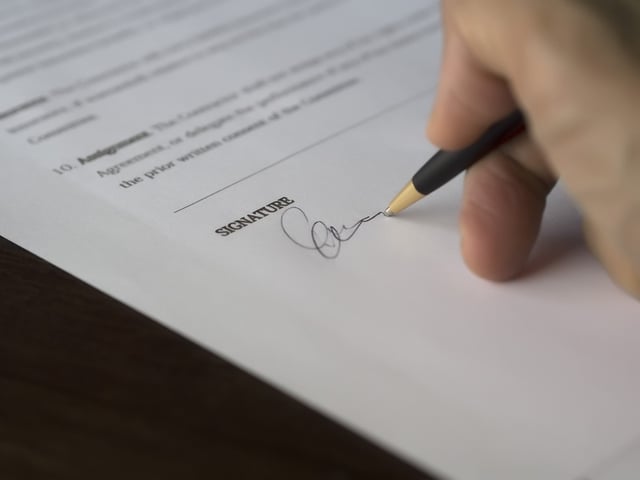 A non-compete agreement is a contract between an employee and his or her employer that prohibits the employee from engaging in business activities that compete with the current employer's business. These agreements can operate in the present (i.e., to prohibit "moonlighting"), or they can begin to run when the employee leaves his or her employment. They are also sometimes called "covenants not to compete" or "restrictive covenants."
What Are the Rules Governing New Jersey Non-Compete Agreements?
The rules for non-compete agreements are different from state to state. Some states have very tight restrictions on the kinds of employees who can be bound by non-compete agreements (excluding minimum wage employees, for example) or specific requirements for their formation (like requiring they be presented a certain amount of time before an employee begins work).
There are no New Jersey statutes governing or restricting non-compete agreements. Instead, the courts determine, on a case-by-case basis, whether a non-compete agreement is enforceable; an agreement will only be enforced if a court determines it is reasonable in scope and duration.[1]
New Jersey disfavors restraints on trade as a matter of public policy, so restrictive covenants are narrowly construed.[2] They are enforced only to the extent they are
Necessary to protect the parties' legitimate interests,
Do not cause undue hardship on the former employee, and
Are not against the public interest.[3]
The law doesn't support employers using non-competes to generally prevent free-market competition; the protected "legitimate interests" under the law include customer relationships or goodwill, trade secrets, and confidential business information.[4] A court weighs the value of this protection against the difficulty that the agreement would create for the employee in finding other work in his or her field and the overall burden to the employee.[5] The court will also consider public policy issues in its evaluation of the reasonableness of the contract; in Community Hospital Group, Inc. v. More, for example, the court balanced the hospital's protectable interests against the potential public harm of preventing a neurosurgeon from working in an area with a neurosurgeon shortage.[6]
An employer has the burden of proof to show that the scope, duration, geographical restrictions, and any other aspects of the covenant are reasonable in the circumstances in order to enforce it.[7] A court is permitted to modify (or "blue pencil") an overbroad covenant when it is reasonable to do so.[8] So, a court might find that a company has a protectable interest and that a restrictive covenant is appropriate, but it may determine that the duration of time specified in the agreement is unreasonable and enforce it for a lesser amount of time.
Can an Employer Force Me to Sign a Non-Compete?
While an employer cannot force you to sign a non-compete, it is permitted to make a job offer contingent on your agreement or to terminate your current at-will employment if you do not sign.[9] New Jersey courts have specifically held that the New Jersey Conscientious Employment Protection Act (CEPA) does not protect a worker who refuses to execute a non-compete agreement.[10] (CEPA protects employees from retaliation if they object or refuse to participate in any activity, policy, or practice that they reasonably believe is against public policy.)
If your current or potential employer asks you to sign a non-compete, you should seek advice from an experienced New Jersey employment lawyer. A skilled attorney can help you determine whether such an agreement is reasonable in your situation and, if so, suggest limitations to protect your interest. A well-written non-compete contract can be limited to only those restrictions necessary to protect the employer and can provide you with compensation (like a severance payment) in the event that you are terminated. Contact the experienced employment attorneys at the Mark Law Firm today if you have questions or concerns about New Jersey non-compete agreements.
[1] Community Hosp. Group, Inc. v. More, 869 A.2d 884, 897 (N.J. 2005)).
[2] J.H. Renarde, Inc. v. Sims, 711 A.2d 410, 416 (N.J. Super. Ct. Ch. Div. 1998).
[3] Solari Indus. v. Malady, 264 A.2d 53, 56 (N.J. 1970).
[4] Coskey's Television & Radio Sales & Serv., Inc. v. Foti, 602 A.2d 789, 794 (N.J. Super. Ct. App. Div. 1992).
[5] Community Hosp., supra, 869 A.2d 898.
[6] Id. at 897-99
[7] Id. at 890.
[8] Solari Indus., supra, at 264 A.2d 61.
[9] A.T. Hudson & Co. v. Donovan, 524 A.2d 412, 415 (N.J. Super. Ct. App. Div. 1987) (non-compete signed at hire was supported by adequate consideration); Hogan v. Bergen Brunswig Corp., (378 A.2d 1164, 1167 (N.J. Super. Ct. App. Div. 1977) (an employee's continued employment for three years after signing the non-compete was adequate consideration)
[10] Maw v. Advanced Clinical Communications, Inc., 846 A.2d 604, 608 (N.J. 2004).)