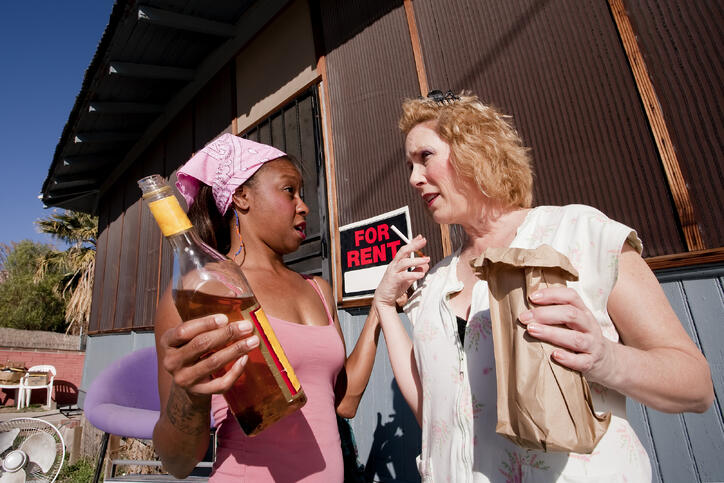 In part 1 of this 2-part series, we looked at disputes involving trees, plants, and fences. Today, we'll take a brief look at some other common neighbor disputes.
Part 2—What should I do about other property disputes?
Local property laws can vary from neighborhood to neighborhood, so it is always wise to check your local ordinances if you think you may have a property dispute with your neighborhood. The key is to act right away if your neighbor is encroaching on your property or you could be setting yourself up for serious problems in the future. For instance, you might not mind if your neighbor pours a new concrete driveway that encroaches, or extends onto, your property. However, you may encounter a boundary dispute when you go to sell the house due to New Jersey's adverse possession laws.
Other neighbor and property disputes include water damage due to improper drainage, trespassing by pets and children, offensive behavior such as nude sunbathing, poor maintenance, easements and access, trees that block your view and nuisances involving lights, noises or unpleasant smells. Check your local ordinances for specific rules regarding messy lawns, poor home maintenance, and the number of vehicles allowed on the property. You might think everyone's lawn needs to be manicured to a high degree, but this is subjective when it comes to the law.
Your neighbor's ugly fencing is perfectly legal! If it is completely on their property, there is nothing you can do about it - other than to plant something you like in front of it on your own property. If your neighbor's dog finds its way onto your property repeatedly, talk to your neighbor about it. According to N.J.S.A. 40:48-1, the state of New Jersey allows each governing municipality to make, amend, repeal and enforce ordinances related to the prohibition of annoyance to persons or property by dogs. That means you will have to check with local authorities to see if it is legal for your neighbor to allow his dog to run at large. Bear in mind, however, that N.J.S.A. 4:22-17 explicitly prohibits you from causing harm to your neighbor's dog - no matter what he does.
Each New Jersey municipality has laws governing the height of trees and fencing, the number of vehicles allowed on a property, where vehicles are allowed to be parked on the property, the number of pets allowed on a property, and other various nuisances. Your county may even have curfews for people under the age of 18 or laws regarding loud parties or music. In most cases, your default action should be to contact your neighbor personally and speak to him or her about any problems in a civil tone. If that does not resolve the problem, you might have to contact local authorities—such as in the case of a barking dog or loud party. However, it is possible that your neighbor's actions or lack thereof are damaging your property or yourself. If a property dispute or nuisance becomes severe enough to cause damage or injury, then you should contact an attorney—the sooner, the better.
The New Jersey attorneys at the Mark Law Firm can help you protect your property rights and recover damages when appropriate. Click the image below to contact us today.