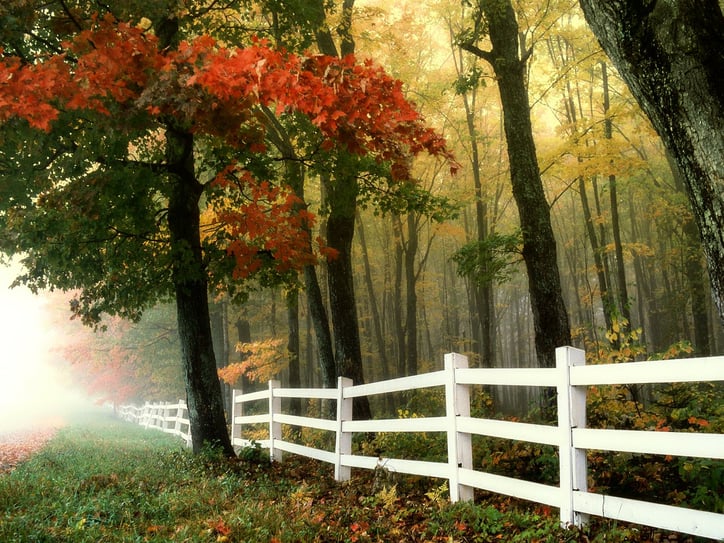 Part 1—Trees, Plants, Hedges, and Fences
Is your neighbor's tree growing on your side of the property line? If this is a nuisance or problem, you should consider your options before you make an enemy of your neighbor. After all, you never know when you might need to borrow a cup of sugar! As a property owner, you do have legal rights when it comes to your neighbor's trees, but non-litigious options may result in a better outcome.
Can I trim my neighbor's trees or plants?
The first thing you need to know is that where the roots are, the rights are. In other words, if a tree trunk is partly on your property, that means you are a part owner of the tree. If the trunk is in your neighbor's yard, but the branches extend onto your property, the law of overhanging branches typically allows you to trim the tree. But before you get the trimmer out, check your local zoning code just to be sure. It does not matter whether or not a fence divides the two properties; you can usually still legally trim the tree although you could be subject to penalties if you damage the tree. Incidentally, if the branches that extend onto your property bear fruit, then you are free to pick from its bounty. See Wegener v. Sugerman, 104 N.J.L. 26, 138 A. 699 (Sup. Ct. 1927).
If your neighbor's plants spread onto your property, you may trim them back just as you would the encroaching tree branches. Of course, the best thing to do if your neighbor's landscaping bothers you is to talk to your neighbor about it.
Are there specific restrictions regarding bamboo?
Planting a bamboo screen may be better than initiating a long legal battle and creating ill will between you and your neighbors. Bamboo trees grow fast and provide the ultimate privacy. New Jersey community ordinances regarding bamboo are relatively specific, so you should check out the ordinances for your neighborhood. Some townships regard bamboo as an invasive species and do not allow homeowners to plant it. Seek legal counsel if you are unsure because there may be fines involved with bamboo that encroaches beyond a property line or boundary.
Is a hedge considered a boundary?
A hedge may be planted on a property line, but a lot line is fixed. A surveyor typically establishes where the lot line is on your property when you acquire the property. You can also hire a professional land surveyor if you own property but don't know where the lot lines are. A less expensive option is to check with your County Recorders Office or Land Registry Office. Know where your property lines are and keep your hedges properly trimmed so as not to encroach upon your neighbor's property. As is the case when it comes to trees, you are allowed to trim your neighbor's hedges that grow on your property.
Are there limits to where I can install a fence?
Your fence should be installed on your property, not on the lot line. You should check with a surveyor if you do not know where your property line is. If fencing is already located on the property line separating your property from your neighbor's, both of you are responsible for maintenance of the fence.
If you're not able to resolve a dispute with your neighbor through personal contact and negotiation, then you may have to use the power of the law to protect your rights. The New Jersey attorneys at the Mark Law Firm can help you protect your property rights and recover damages when appropriate. Click the image below to contact us today.